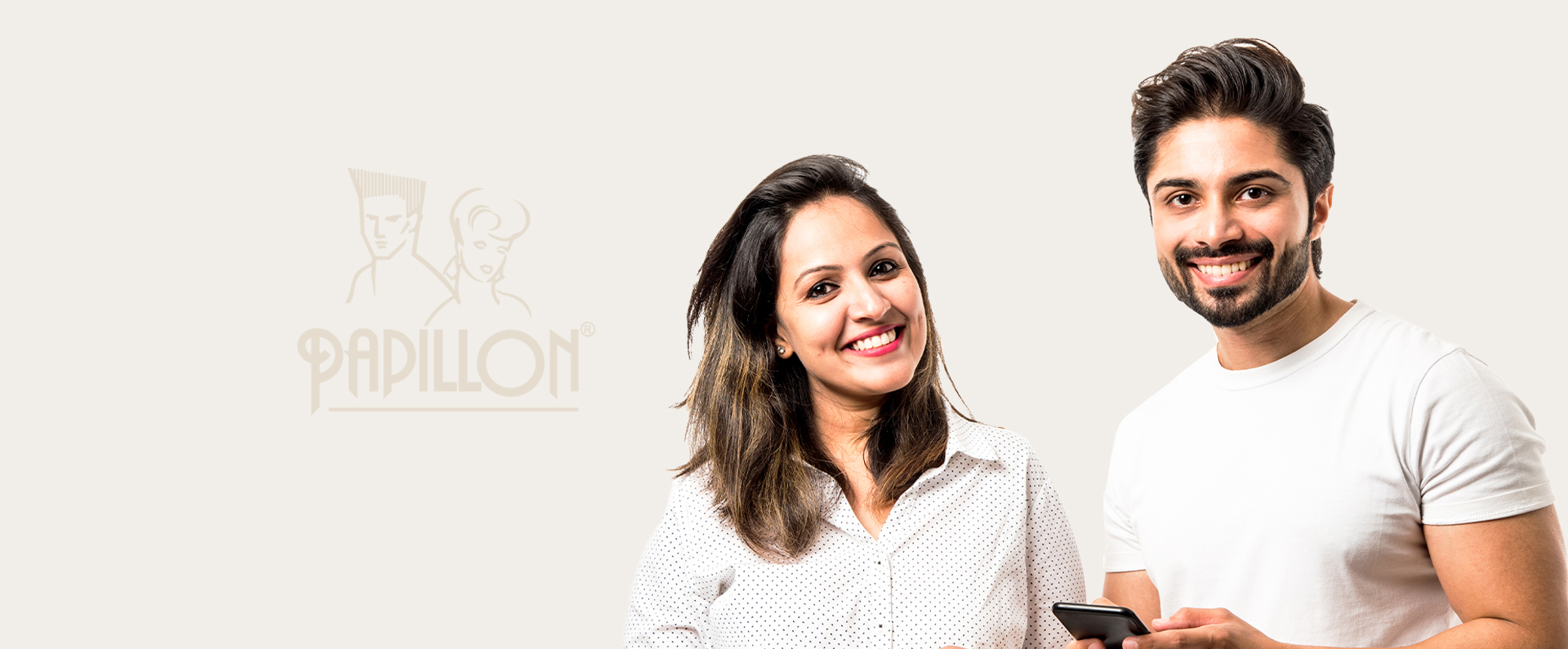 Non-Surgical
Hair Replacement
For Men & Women
Get in touch Now!
we'll call you back
Notice Hair Loss?
Contact us!
Non-Surgical Hair Replacement
Papillon Hair World provides high quality, customized Hair Replacement in Pune. This procedure is meant for Male and Female clients who are suffering from partial baldness due to genetic reasons or any other problems. Papillon Hair Replacement Systems are customized for thinning size, density, color, texture and choice of style to give the most undetectable look.
Non- surgical hair replacement solutions are also known by many names in the market. Hair Bonding, Chemical Bonding, Hair Restoration, Hair Weaving, Hair Patches etc are commonly used names for this procedure. However, Hair Replacement Systems / Hair Replacement Service is the right technical name of this procedure.
There is significant variety in products available in the market especially in terms of the quality of base materials, quality of human hair used, mixtures of synthetic or animal fibers, type of knotting and scientific knowledge of the stylist. Hence, it is very important for the clients to judge their service providers based on all these parameters and much more. For better understanding, we have given a video of a Men's Hair Replacement procedure above. We have also included a few commonly asked questions and answers so that you can get better understanding about this.
our benefits
The Papillon Advantages
Team
Founders
Papillon was founded in 1988 by Dr. Vinay Koparkar and has grown to be a leading name in the Hair Industry since. Now the 2nd Generation, Mr. Aniket and Ms. Kavita, look after the Business operations and further expansions of the company. Read through to know more about them.
Feedback
Client Testimonials
"My experience with Papillon is great. Wig quality is very nice. Noone could recognise that I am wearing a wig. Staff is very friendly & nice."
" Good experience. People are Polite. Service is good. Very supportive. Compound is clean. Service from Akash is very good. He has mastered the skill.."
" My experience with Papillon is great. Wig quality is very nice. Noone could recognise that I am wearing a wig. Staff is very friendly & nice."

NEED TO KNOW
Frequently Asked Questions
we'll call you back
Notice Hair Loss?
Contact us!
Our Services
Hair Restoration Solutions:
Attachment Methods of Hair Replacement Systems
Hair replacement system can be attached to the head in 3 ways.
Clipping : The methods of attachment are suggested by an expert depending on your baldness, your work profile, and in general daily schedule.
Clipping is suggested for those who are on the borderline of baldness. They are neither bald nor having a good density. Such people will need clipping methods.
Taping : The taping method is suggested for those who are willing to maintain the hair replacement system on a weekly basis on their own. Usually it is a method suggested for out of India, or out of city clients who are unable to come for the maintenance every 21 days of a month. It is self dependant and easy to follow once trained for it
Bonding : It is the most popular method. The hair replacement system is fixed on the head through bond / glue. It has an ultra hold strength, once fixed remains for around 3 / 4 weeks. After that you need to do regular servicing to maintain a good look with strong hold.
Maintenance Schedule of HRS. 
Once you select the hair replacement system and the way it has to be fixed to your head, now it's time to follow the maintenance schedule, so that the given look is maintained. If your method of attachment is clipping then, you may have to visit a service center just when you will need a haircut. It may be in a month's time or as per your frequency of hair cut. If you have selected the taping method, then you have to change the tape strips every week on your own at home. Service may be required just like when you will need a hair cut of your existing hairs.  If the method of attachment is Bonding, then it's almost mandatory to do a service by a professional hair stylist every 3 weeks.
contact us
Contact Info
Address 1
Papillon Hair World: Navipeth Branch
Showroom no.1 'Alliance Prima',
Navipeth, Near Mhatre Bridge Pune
Address 2
Papillon Hair World: Baner Branch
Shop no. 2, Regent Plaza,
Baner-Pashan Link Rd,
Near Mahabaleshwar Hotel, Baner, Pune