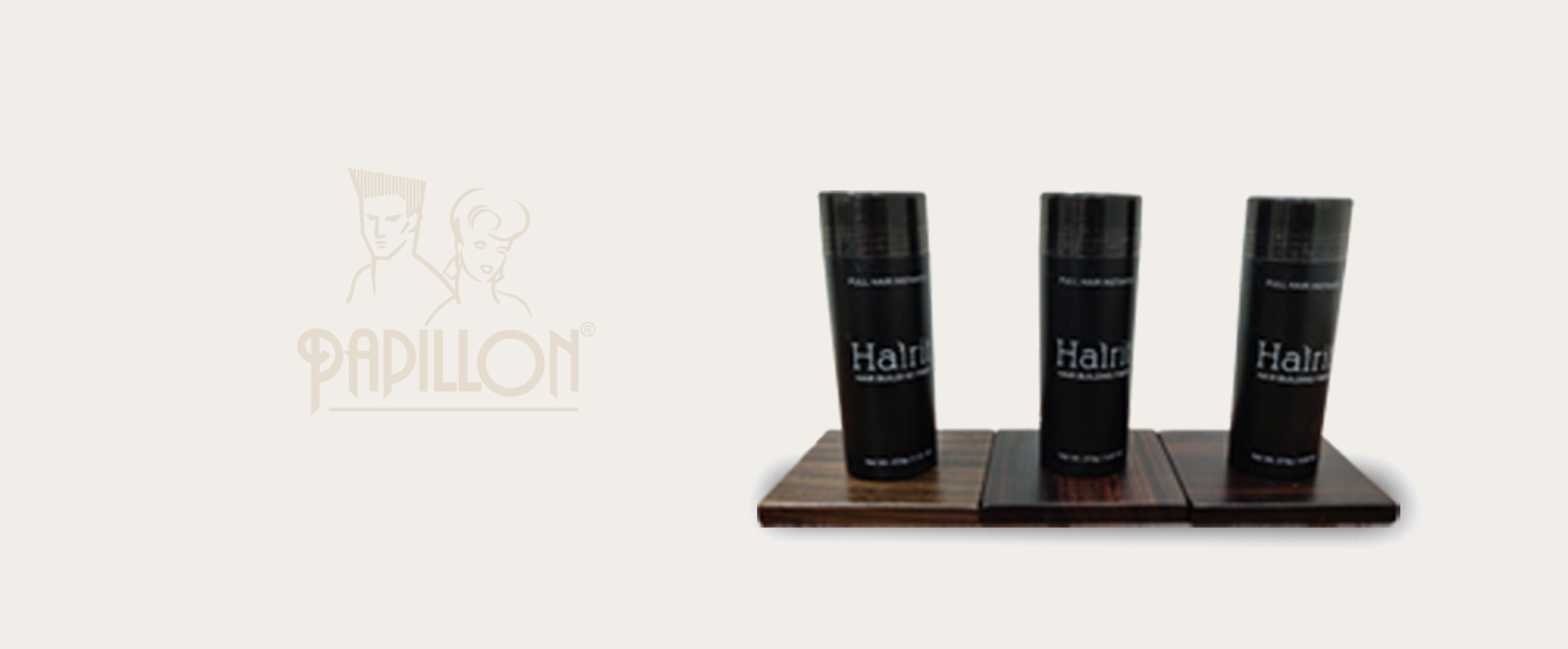 Restore Your
Hair. Restore
Your Life.
we'll help you!
we'll call you back
Notice Hair Loss?
Contact us!
Hair Building Fiber (Hair Powder)
Are you worried about thinning of your hair and bald patches, Papillon's 'Hair Building Fibers' also called as 'Hair Fiber Powder' are the ultimate solution for you! This product is used worldwide by men and women to help conceal thinning hair or bald patches.
Hair building fiber is made of a fibrous structural protein known as 'Keratin'. This is the same type of protein found in real human hair. Hair building fibers have a strong electrostatic charge, when sprinkled over the thinning or finer hair; these fibers bond tightly with the hair, giving a full dense, undetectable and natural look within seconds. The use of Hair Fiber Powder is very simple and anyone can do it on their own and there is no need to visit a professional.
While selecting a Hair building fibers make sure that the product is made from 100% natural & premium based Keratin. Hair Fiber Powder comes in various shades, so you can choose the one which best suits your natural hair. Most important point to be kept in mind is that, Hair Fiber Powder does not help in regrowing your hair; however, it only helps to cover or hide thinning hair or bald spots.
our benefits
The Papillon Advantages
Team
Founders
Papillon was founded in 1988 by Dr. Vinay Koparkar and has grown to be a leading name in the Hair Industry since. Now the 2nd Generation, Mr. Aniket and Ms. Kavita, look after the Business operations and further expansions of the company. Read through to know more about them.
Feedback
Client Testimonials
"My experience with Papillon is great. Wig quality is very nice. Noone could recognise that I am wearing a wig. Staff is very friendly & nice."
" Good experience. People are Polite. Service is good. Very supportive. Compound is clean. Service from Akash is very good. He has mastered the skill.."
" My experience with Papillon is great. Wig quality is very nice. Noone could recognise that I am wearing a wig. Staff is very friendly & nice."
NEED TO KNOW
Frequently Asked Questions
Our Services
Hair Restoration Solutions:
contact us
Contact Info
Address 1
Papillon Hair World: Navipeth Branch
Showroom no.1 'Alliance Prima',
Navipeth, Near Mhatre Bridge Pune
Address 2
Papillon Hair World: Baner Branch
Shop no. 2, Regent Plaza,
Baner-Pashan Link Rd,
Near Mahabaleshwar Hotel, Baner, Pune