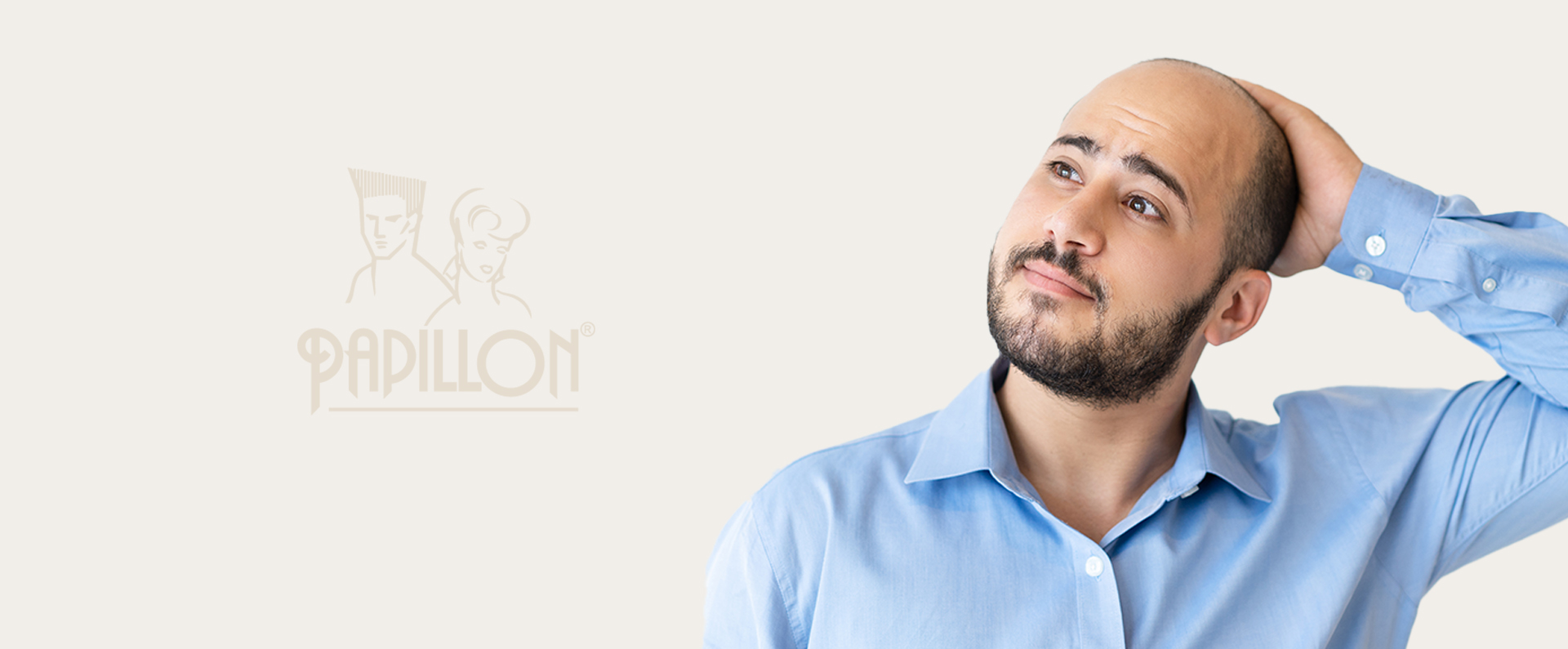 Restore Your
Hair. Restore
Your Life.
we'll help you!
we'll call you back
Notice Hair Loss?
Contact us!
Let's Understand Hair Loss Better
Shedding 80-100 strands of hair everyday is OK, but if you are losing more than that then might be suffering from a chronic hair loss problem and it could lead to partial or complete baldness. During Hair loss, each hair cycle (Anagen – Categen – Telogen) will produce thinner, weaker and fewer hair. Slowly your hair follicles begin to die and hair fails to regrow, leading to baldness and thinning of hair.
The most common type of hair loss is called Androgenic Alopecia / Pattern Baldness which is caused mainly due to genetic factors. In this, the hair loss is seen mostly on the front and top portion of your head. The hair follicles gradually shrink and eventually die. This is mainly due to the DHT attacking your follicles.  
Then second most common type of Hair Loss is Telogen Effluvium, which is when majority of your hair strands enter the telogen phase and fall off. Anything from a break up to an accident or death of a close one could trigger it. Even post pregnancy Telogen Effluvium is very common. In this, more number of hair enter the Telogen phase and thus fall off easily. There are many other types and causes of Hair Loss that can be causes by internal reasons such as genes and hormones or even by external reasons such as wrong use of products, misconceptions of home remedies etc.
Why Papillon For Hair Loss Control?
Dr. Vinay Koparkar, our founder has been practicing medicine and treating patients for hair issues for last 30+ years. Thus we at Papillon Hair World, combine the science of modern medicine (alopathy) with our own formulations of FDA approved products (Hair Oils, Shampoos, Hair Lotions & Tonics etc) to give unparalleled results in controlling and preventing Hair Loss. All consultations are taken by Dr. Koparkar himself or by the expert trichologists trained under him. Each client is urged to take a thorough consultation in order to achieve the best results and we strictly discourage self prescription of the commonly heard prescription drugs that you might read about online. Although these are the two most effective drugs of choice for controlling Hair Loss, taking these without the guidance of a Doctor or a Trichologist can certainly do harm.
our benefits
The Papillon Advantages
Team
Founders
Papillon was founded in 1988 by Dr. Vinay Koparkar and has grown to be a leading name in the Hair Industry since. Now the 2nd Generation, Mr. Aniket and Ms. Kavita, look after the Business operations and further expansions of the company. Read through to know more about them.
Feedback
Client Testimonials
"My experience with Papillon is great. Wig quality is very nice. Noone could recognise that I am wearing a wig. Staff is very friendly & nice."
" Good experience. People are Polite. Service is good. Very supportive. Compound is clean. Service from Akash is very good. He has mastered the skill.."
" My experience with Papillon is great. Wig quality is very nice. Noone could recognise that I am wearing a wig. Staff is very friendly & nice."

NEED TO KNOW
Frequently Asked Questions
Our Services
Hair Restoration Solutions:
contact us
Contact Info
Address 1
Papillon Hair World: Navipeth Branch
Showroom no.1 'Alliance Prima',
Navipeth, Near Mhatre Bridge Pune
Address 2
Papillon Hair World: Baner Branch
Shop no. 2, Regent Plaza,
Baner-Pashan Link Rd,
Near Mahabaleshwar Hotel, Baner, Pune